Tags: Turn Off Auto-Correction, Android Smartphone, Auto Correction
Ever been embarrassed while sending a text to someone and because of Auto-correction the word you typed changed to another word? Well, it happens will every smartphone devices and this irritates a lot.
While writing a sentence, for example, Do you remember one thing? instead, it changes to – Do you remember one thong? THONG? like seriously? isn't this sounds funny?
More examples of autocorrect fail:-
Horny for Horn

Sex for Sec

Pregnant for Permanent

Impotent for Important
Some Name be like:-
Tapish for Rapist
Anmol for Animal
Tiny for Tony
Here are some of the Auto-correct conversations:
Image Sources: Pinterest
Can't laugh anymore? Well, sometimes it looks funny and at times not. People with a sensitive and short-tempered nature. They screw up when they receive these types of texts. Which can either ruin the relationship?
So here I'm gonna teach you how to turn off auto-correction in your Smartphone devices. Just follow the steps below.
Turn Of Auto-Correction In Android Smartphones
***Note: This method will work for both G-Board and Swift Keyboard***
Step 1: Go to Settings
Step 2: Tap Language and input
Step 3: Select your keyboard whether G-Board, Swiftkey or Grammarly (if installed)
Step 4: Turn Of Auto-correction by swiping it to left for Grammarly. For Swift Key – Go to Typing > Typing & Auto-Correct and turn off Autocorrect and Quick Prediction Insert option.
Step 5: Go back to your Messaging box and type anything, if you don't see any Word Suggestion or Auto-correction, then you're done.
Turn Off Auto-Correction In Apple Smartphones
Step 1: Open the Settings app.
Step 2: Tap General.
Step 3: Tap Keyboard.
Step 4: Tap the switch next to Auto-Correction.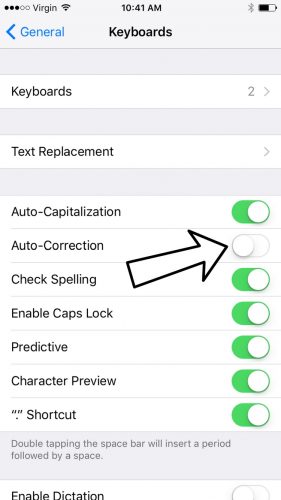 Step 5:  You'll know that Auto-Correction is off when the switch is gray.
Step 6: Go back to your Messaging box and type anything, if you don't see any Word Suggestion or Auto-correction, then you're done.
if you're using any other keyboards apart from the keyboards listed above, then you will find a similar change in their settings. Just you will have to search for Auto-correction text and switch to off. After doing that so, Auto-correction settings will never ever irritate you while sending a message in the future.
Hope you liked this article. Do Comment if you aren't able to turn off the auto-correction filter. I would love to assist you.
Enjoyed reading this article?
Well you can get to read more interesting articles right in your inbox. You're a step away, Enter your Email ID and hit Join Now button.
Great. You're Done. Thanks For Joining Us.
Opps! Something went wrong. Please try again